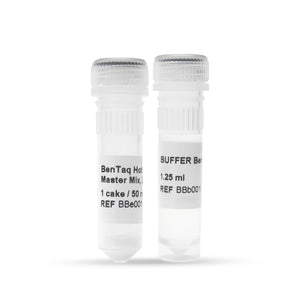 Features
Ready-to-use PCR master mix. Simply add primers and template

Lyophilized formulation enables better stability at room temperature

Ideal for a wide range of applications including routine PCR and molecular diagnostics

Avoids non-specific amplification

Room temperature reaction setup
Description
BenTaq HotStart PCR Master Mix contains a highly pure HotStart Taq polymerase, reliable for routine and demanding PCR applications. The HotStart Taq DNA Polymerase is inactive during reaction setup due to the bound antibody, which is quickly released at elevated temperatures, ensuring the enzyme is active only during PCR. The HotStart feature minimizes primer–dimers and mispriming. The dried format allows shipment and storage for a long time at ambient temperature.
Storage

Room temperature for lyophilised master mix and BUFFER up to 6 months

4°C for up to 1 year
Note: Reconstituted lyophilisate must be stored at -20°C.
Read the full protocol in English and French